As your trusted 🤝 Real Estate professionals, we like to keep you up to date with the CURRENT REAL ESTATE MARKET IN ORANGE COUNTY. With decades of experience, 78+ combined years in the Real Estate industry, we have been serving Orange County buyers and sellers since 1982. 🏠
Below is a Snap Shot 📷of the current OC Housing Report: Heat Wave
(Due to Posting Restrictions, To View the Full Report Email Us at Info@HelpSellWright.com or Call 949.770.9888 for a FREE Copy of the Report)
Orange County Housing Market is experiencing VERY LOW INVENTORY 📉with buyers wanting to take advantage of the historical low interest rates.
If you or if you have a friend or family member that is thinking 🤔 of buying or selling Real Estate, please contact us at 949.770.9888 with their name and number and we will be happy to follow up with them!
Full Service…Save Thousands…Experts Next Door!!!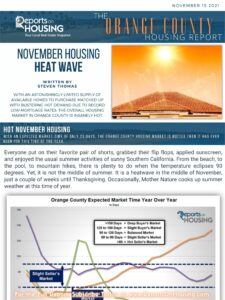 #realestate #homeowners #housing #housingmarket #realestatemarket #home #homeownership #orangecountyrealestate #orangecountyhousing #sellers #buyers #realestateagents #lowflatfee #fullservicerealestate #saveoncommissions #helpusell #platinumedgeproperties